Friday, September 7, 2012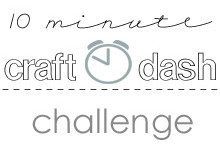 Hello! I have another card for the 10 Minute Craft Dash Challenge. This week the challenge was to use three colors plus neutrals. The colors are light blue, a darker blue, and a green. Here's the card I made and it took every second of ten minutes.
This card came together pretty quickly, the most time consuming were putting the gems on the butterflies and gluing them down.
Thanks so much for taking time out of your day to stop by! I hope you have a great weekend!!! Speaking of weekends, I'll have a really fun post for Clear & Simple Stamps tomorrow. You won't want to miss it!
Have a great day!
{Thank You}
Stamps: Background Basics 1 (CSS), Communique Sentiments (PTI)
Card Stock: On the Catwalk Cream, Trendsetter Blue (CSS)
Patterned Paper: Basics Manila (Basic Grey)
Ink: Simply Blue-tiful (CSS)
Dies: Spiral Notebook (PTI)
Accessories: Edge Distresser, Stamping Sponge, Floss, Foam Dots, Butterfly Punches (Martha Stewart)